Activist Legal Support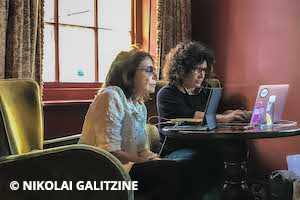 Progressive political action is resurfacing in the US after decades of silence enforced by oppressive police tactics and lack of media attention. Black Lives Matter and other protesters need legal support from lawyers who understand the political and historical context in which we operate. Hrbek Kunstler acts as a media lawyer for WikiLeaks, and both Margaret Ratner Kunstler and Deborah Hrbek speak out regularly as advocates to free Julian Assange. The firm frequently provides pro bono support to community organizing campaigns.
CLICK HERE FOR CURRENT ACTIVIST LEGAL SUPPORT CAMPAIGNS
WikiLeaks Support / Press Freedom
Margaret Kunstler was the co-chair of the Belmarsh Tribunal organized by Progressive International in New York City in February 2022.
Watch Margaret Kunstler on energizing the antiwar movement through participation in street protests and making our voices heard.
See Deborah Hrbek give testimony to the Tribunal on the illegal US government surveillance of US citizens visiting Julian Assange at the Ecuadorian embassy in London.
See the full live stream of all witnesses, including Noam Chomsky, Nancy Hollander, Tom Morello, Roger Waters and Cornell West
Civil rights attorney Margaret Ratner Kunstler spearheads activist legal support matters for Hrbek Kunstler clients. Kunstler advises WikiLeaks and other national security investigative journalists in connection with grand jury subpoenas, encounters with the FBI, and overcoming fundraising hurdles in the face of corporate obstruction and governmental suppression. An advocate for street protesters and other activists utilizing more modern tools for getting their voices heard, Kunstler fights to protect constitutional rights of demonstrators online and on the street.Kunstler is an advocate for progressives and a provider of essential movement support. Kunstler has spent her career providing movement support and protecting the rights of activists. A powerful speaker on human rights issues, Kunstler's Hell No: Your Right to Dissent in Twenty-First Century America, co-authored with the late Michael Ratner of the Center for Constitutional Rights, is the leading handbook for activists today.
Kunstler was a founding member of the National Lawyers Guild NYC Mass Defense Committee, originally formed to coordinate representation for those arrested during the Columbia University Protests in 1968. To this day, the NLG-NYC Mass Defense Committee provides legal observers at demonstrations and represents those arrested. After working as public defender at the Legal Aid Society in New York City, Kunstler went on to represent grand jury resisters nationwide and became recognized as a leading expert on grand jury law. She was director of the Grand Jury Project Kunstler and edited "Representing Witnesses Before Federal Grand Juries," the authoritative practice manual in the field. Kunstler worked at the Center for Constitutional Rights (CCR) as an attorney and educational director. At CCR, she originated the Movement Support Network, work for which she was named ABC Person of the Week, and authored the now famous pamphlet, "If An Agent Knocks."
Together with her late husband, William M. Kunstler, subject of the Oscar short-listed documentary, Disturbing the Universe, Margaret Ratner Kunstler worked on high profile matters that included the Virgin Island 5, Attica, and Wounded Knee. Kunstler is the founder of the William Moses Kunstler Fund for Racial Justice, established to work to combat racism in the criminal justice system, which spearheaded the successful fight for the reform of New York State's Rockefeller Drug Laws and helped hundreds of nonviolent first-time drug offenders get out of prison. Together with Elizabeth Fink and Deborah Hrbek, Kunstler headed the New York City Chapter of the National Lawyers' Guild "Writ Squad" during the Republican National Convention, securing the release of over one thousand detained protesters from Pier 57.
Kunstler provides essential guidance to her clients, who have the benefit of her vision and integrity, her intelligence and her history. She has spent her entire career fighting for your rights and she will continue to do so, to provide the legal support you need as you take on the struggle to resist corporate domination and make the world a fairer place.